Over and over, I am nauseated when Mary Kay ladies repeat the lie of "we profit 50% on product sales!"
Even Mary Kay Inc. repeats this lie to the general public: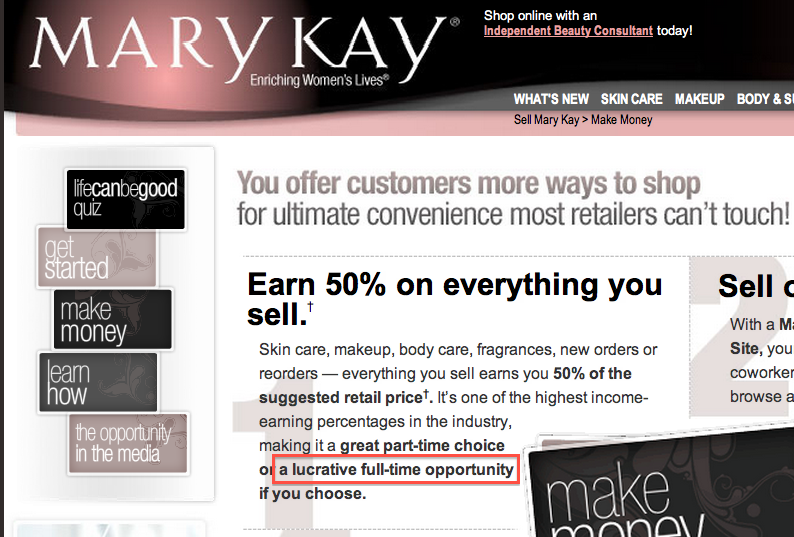 No, consultants do not profit 50% on product sales. If a consultant sold all products at FULL suggested retain prices, she would have 50% gross profit. (Unless she was in Australia, where Mary Kay priced things such that they'd only make 40% gross profit.) From that gross profit, you then have to subtract your other costs, such as shipping, supplies, samples, transportation costs, etc. That calculation would get you to your actual profit.
But we know MK consultants don't typically sell products at full retail pricing. Everyone pretends they do, of course. But it's impossible. There are so many consultants peddling their wares. There are products available on sites like eBay and Craigslist. The consultant down the street is offering a discount, so you have to discount too if you want to sell anything.
Sales director Ali Zornes demonstrates the discounts well. As she struggled to finish her Cadillac last year, she placed massive orders for products. She has a unit that is not producing at the Cadillac level, so she had no other choice. She recently had a huge sale to help deplete some of the products she had amassed. Ali said she was offering 40%, but the truth was that she offered 50% or more off of many products. She was losing money on this.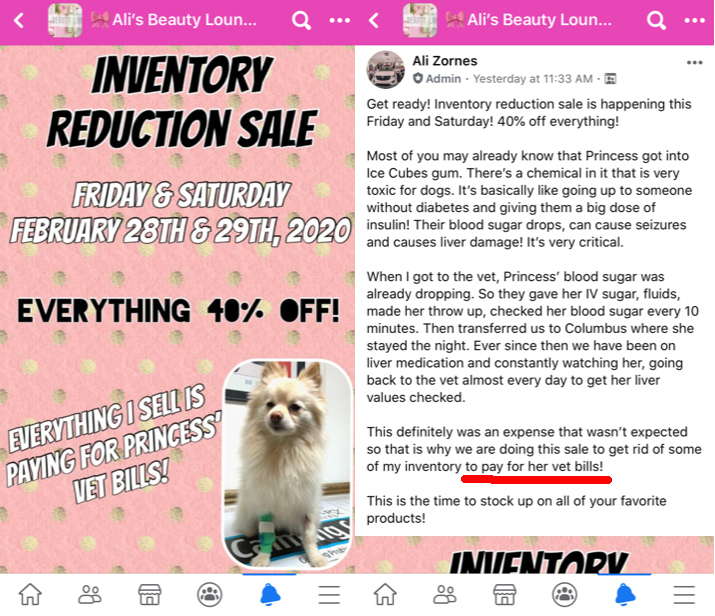 But don't think that this was a one-time deal under a special circumstance. In a little over a year, she has had 10 massive sales:
Nov 23, 2018
Dec 15, 2018
Jun 18, 2019
Jun 29, 2019
Aug 16, 2019
Sep 2, 2019
Sep 12, 2019
Nov 29, 2019
Nov 30, 2019
Feb 28-29, 2020
This doesn't include a bunch of smaller sales where she was discounting a particular product or t0ow. During the big sales, Ali offered discounts that were often 40%, 50%, or BOGO (buy one, get one free). And yet she will tell you in her Instagram stories that you should join Mary Kay because, among other things, you will earn 50% on your product sales.
Here's a better look at the sale Ali ran over the last year…