Mary Kay Sells Women on Having It All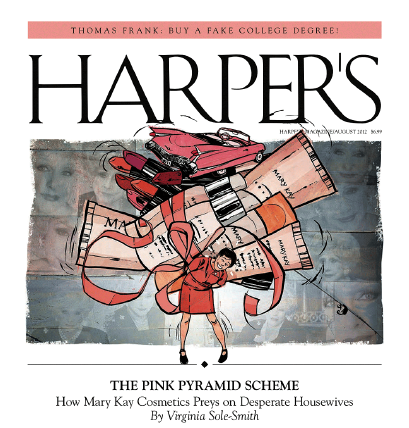 Over ten years ago, one of the finest pieces ever written about Mary Kay Cosmetics was published by Harper's Magazine. The Pink Pyramid Scheme: How Mary Kay Cosmetics Preys on Desperate Housewives was written by Virginia Sole-Smith in 2012 after going undercover and gathering information on exactly how the Mary Kay scheme works.
I love revisiting this article from time to time because we have so many new readers who never saw it.
At the same time the article was published, Virginia penned a piece on Harper's website discussing feminism and Mary Kay. This company that professes to "empower women" is doing no such thing. She wrote:
Most of today's Mary Kay ladies are struggling, though, even as the company flourishes at their expense. Tracy Coenen, a financial-fraud investigator and the founder of the online community Pink Truth, estimates that Mary Kay consultants can hope to clear $25,000 per year, at best. Most who make money earn about minimum wage, while fewer than 300 of the 600,000 Mary Kay ladies in the United States net a six-figure income.
The women I interviewed for "The Pink Pyramid Scheme" told me stories about struggling to patch together daycare or to survive high-risk pregnancies while working long hours scouting prospects and hosting parties without any guarantee of a sale. Debts mounted, marriages failed. They couldn't have it all because Mary Kay's business model (like that of any multilevel-marketing enterprise) is designed primarily to profit from, rather than enrich, its workforce.
Virginia wrapped up her thoughts:
The lesson I took from their experiences was that the question of how to have it all shouldn't be segregated into a "big girlfriends club" (as one Mary Kay lady described her sales force). When we assume that the needs for flexible work hours and equal pay are just "women's issues," we do a disservice to the many men who want to be equal partners in their households, and we enable the dysfunctional pattern in which American women who work full-time nevertheless continue to do most of the housework and childcare.
I often refer to Mary Kay as a wolf in sheep's clothing. The public persona is one of helping women and elevating them financially and emotionally. But the truth is that almost everyone loses money, and the "club" created by Mary Kay is fake while you're in it, and soul-crushing when you leave.