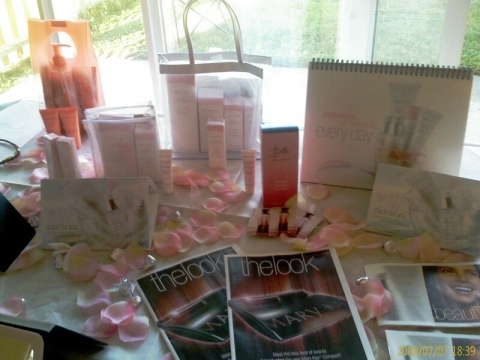 In August of last year, Mary Kay ran a promotion offering a "$100 rebate" for new consultants. This gimmick worked the first time around, according to Mary Kay:
Rhonda Shasteen, Mary Kay's Chief Marketing Officer, point out, "In fact, in August, just 45 days ago, we experienced a 44% increase in the number of new beauty consultants coming in compared to August a year ago….right now in China we're growing 75% in a year-to-year basis."
Notice Rhonda didn't mention that they ran a little promotion in August aimed at signing up new victims. And statements like these (attempting to show that the company is on an upswing during difficult economic times) cover up the real truth about Mary Kay, which is that consultant numbers are actually down by 14% and sales director numbers are down by 7%.
Realizing that Pink Truth is willing and able to call Mary Kay Cosmetics out on its less-than-truthful, less-than-full-disclosure statements, the company is cleaning up the claims it makes. The most recent claim is this :
"Mary Kay has seen a 30% uptick since November in people logging onto the company's Web page that provides information about becoming an independent consultant, said Rhonda Shasteen, chief marketing officer with the corporation. The company declined to say how many consultants it has added recently, however."
Hmm… I wonder why Rhonda isn't willing to talk turkey about the actual recruiting numbers? Any moron can figure out that it's because those numbers aren't up. It sounds like recruiting isn't really going all that well, and Mary Kay needs to pull an old trick out of the bag. The company has a long and strong track record of using gimmicks such as "double credit" to boost numbers reported publicly.
Mary Kay is reaching into that bag and pulling out the "$100 rebate" again, but like the last time, the catch is that a new consultant must purchase a minimum of $600 wholesale in order to get the rebate.
Make the Most of Great Start
With commercials airing in television markets across the country and the Great Start promotion underway, there's never been a better time to build your team!
Your customers have more incentive to consider a Mary Kay business with the Great Start $100 rebate program. Women who already love the Mary Kay® products will welcome this opportunity to add extra dollars to their budgets. So take action now, and use the tools created to grow your team. You'll especially want to take advantage of the customer-ready flier designed for you to use when talking about the special offers that come with starting a Mary Kay business along with limited time offers available only in March.
$100 Rebate for New Consultants – How it works
A new Independent Beauty Consultant will receive a $100 rebate check if she submits her Independent Beauty Consultant Agreement from March 1 – 31, 2009, and in the month of March or April submits one or more $600 Section 1 order(s) which, alone or combined, equal a wholesale amount of $600 or more (excluding sales tax and shipping). No further action is required to receive the rebate check. Rebate checks will be mailed no later than thirty (30) days from April 30, 2009.
So the truth is that the consultant must first spend about $770 dollars total (including shipping and tax on retail) in order to get the $100 back. Becoming a consultant isn't as "free" as it may seem when sales directors are touting that new consultants can sign up for free!