Written by PinkPunch
Question: Does MK constantly change product packaging, colors and formulas etc… to:
stay on the cutting edge and look up-to-date
or because they know you'll be stuck with the old and forced to buy the new, which keeps ordering stats higher???
You decide!
I was in MK for 4 years so here's the many changes just within this short time.
Picture of lip gloss packaging:
Picture of available colors: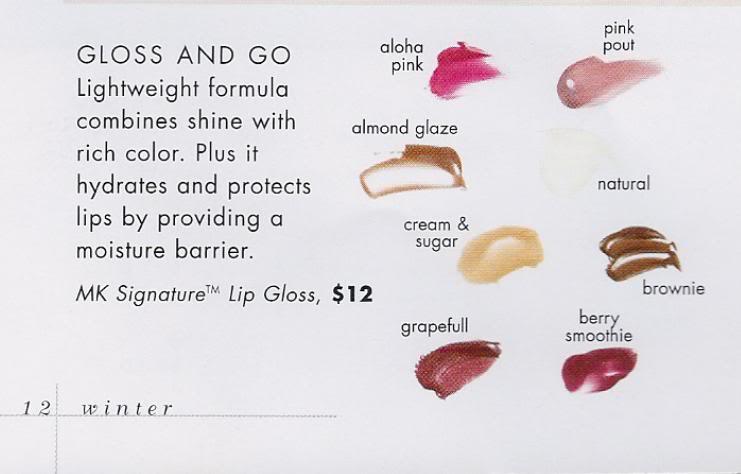 Summer 2005 (Which means from March 2004 – June 2005 is 1 year 3 months later):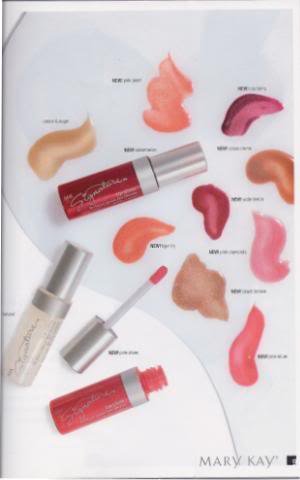 You see they've completely changed the packaging and discontinued every color except for Natural and Cream & Sugar. The formula was also changed, with sparkles, except for the Natural.
Winter 2006 (Remember this stays current until March 2007)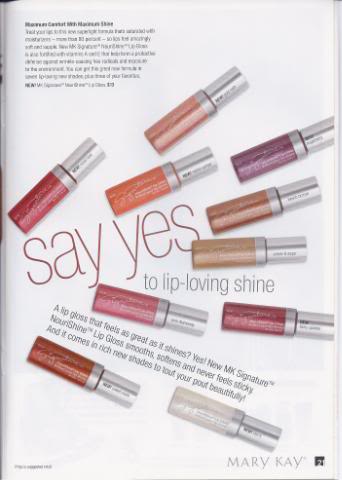 So let me see here… This time around there are six more discontinued colors: Pink Pearl, Cranberry, Cocoa Creme, Watermelon, Tiger Lily, and Pink Allure.

Seven new colors are added: Coral Rose, Melon Sorbet, Gold Rush, Sugarberry, Berry Sparkle, Sweet Raisin, Natural changed to Starry (with sparkles).

If you look closely the discontinued colors are very close to the new colors:
1. Cranberry- Sugarberry
2. Watermelon- Berry Sparkle
3. Pink Pearl – Melon Sorbet
4. Cocao Creme – Sweet Raisn
5. Tiger Lily – Melon Sorbet
6. Natural – Starry

Hmmmm, Really it seems the only "New" color is Gold Rush?

Winter 2007 (so from March 2007 – December 2007 is only 9 months later! ), there really are no new colors, but a product change indeed.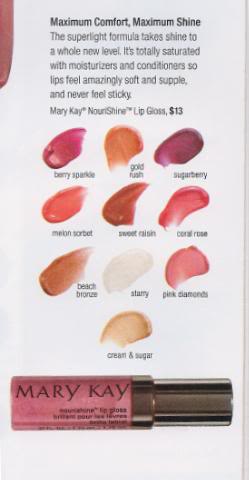 There you have it! MKC has changed their lip gloss 4 times from March 2004 to December 2007 (Not even a full 3 years time with 4 changes)
Decide for yourself!
Was it really necessary for all of these changes? In my opinion, NO! Especially when so-called "new" colors were hardly any different from the last ones!
It is just another Mary Kay scam to get consultants to order more products Remember that the REAL Mary Kay customer is the consultant.
How many times were you told to sell your old stuff at 1/2 off and buy the new, even though you haven't sold the old at 1/2 off yet?
Mary Kay says consultants should "think like a retailer," but there is no comparison to an actual store like Target and a consultant. Target sells a huge volume. Target does not buy the "New" product until they have sold the old first. Sure, they might put it on sale but they do not buy the new until the old is almost completely gone.
When you send your customers a Look Book you are advertising the "New" and most of those customers want the new…unless you give them the old at 1/2 off. Well fine, maybe you will sell off your old stuff but by the time you do there has just been another product change and now you are stuck with the last product change which puts you at square one, again.
And selling products at half off is just running in place. You've worked all those hours to sell the products, you've spent money on samples and look books and gas and supplies…. yet you sold the product at half off so you're losing money on the deal. But you have to sell the old stuff somehow, right?
And you HAVE to stock the new products because they're in the Look Book and customers will want the newer things…
It's all a clever game designed by Mary Kay to keep consultants buying products, whether they've sold their old stock or not.
And about those packaging changes that Mary Kay insists are necessary to stay "on trend"? Real cosmetics and personal care product companies do not do product changes very often. I've used a lot of Paul Mitchell products, for over 20 years now, and his packaging has changed only 3 or 4 times AND those were very subtle changes. People may not have even noticed the differences.
Welcome to Mary Kay's product con.