Caterina Harris: Another Mary Kay Failure
For years, Caterina Harris has been touted as Mary Kay royalty. The best of the best. At the very TOP of the company. Someone who is an example for all women who want to move up in Mary Kay. Part of an elite group of women…. "Mary Kay Millionaire" who is living the good life thanks to the wonderful opportunity that is Mary Kay.
Would you be sad (or surprised) to find out that Caterina Harris isn't even making an executive income in the upper echelon of Mary Kay? Caterina became a Mary Kay sales director in 1992, and after twenty years as a "top" member of Mary Kay, she's not even making a six figure income. Let me repeat… twenty years of her life devoted to this amazing opportunity, and she's not even making $100,000 per year as one of the very top members of the company.
You wouldn't know it from looking at Caterina's promotional materials. In this tacky video, you can see all of her accomplishments. She is one of the top 200 women in Mary Kay.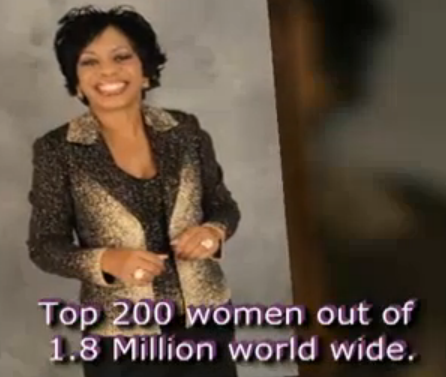 She has gotten numerous Circle of Excellence and Circle of Achievement awards (based on how much was ordered from the company by her consultants):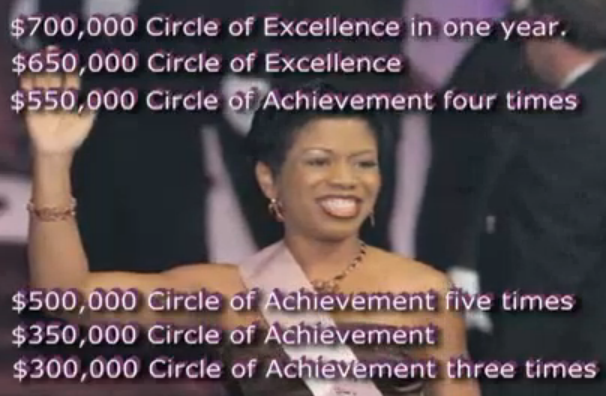 She is a "Mary Kay Millionaire," receiving more than $1 million in cumulative commissions from the company in her many years: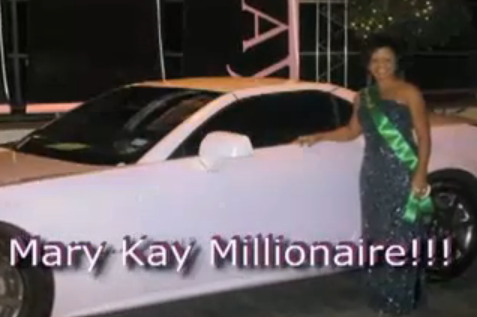 And her highest monthly commission check was $17,200: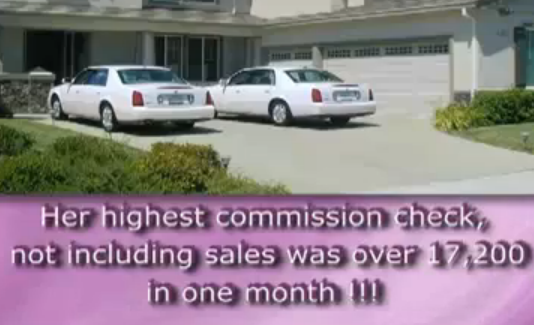 (You know what to do with this. Mary Kay hopes you'll do the math of $17,200 x 12 = $206,400 and wrongly assume that Caterina is making more than $200,000 per year with MK.)
All these wonderful "accomplishments," and still Caterina Harris is not making an executive income in Mary Kay. How can this be?
It all boils down to the PINK TRUTH. Life at the top of Mary Kay isn't all they pretend it is. Remember Amy Dunlap? She's a former Mary Kay national sales director who spilled the beans on how low the income of the typical nsd is. She was bringing in just over $100,000 per year gross income (before business expenses) when she left Mary Kay. Former nsd Allison LaMarr was another one who was touted as a huge success, but saw her income plummet in the months before she quit MK.
And here's the income of the superstar Caterina Harris: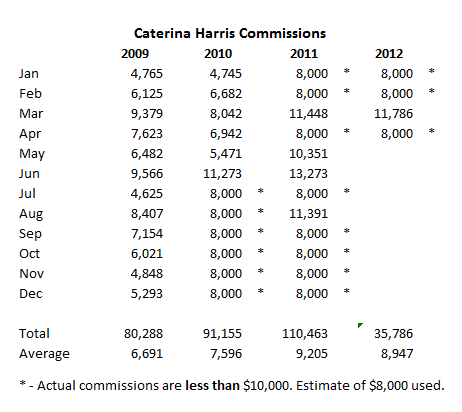 The above figures include all of her commission income, per this explanation in Applause Magazine:   "Listed are NSD commissions above $10,000 earning in _____ by National Sales directors as defined above plus the following which do not count toward NSD ranking: Sales Director commissions, Personal Team commissions and NSD contest bonuses."
In recent years, Mary Kay stopped printing commission checks for the nsds with checks less than $10,000 per month. You can see that most months for Caterina are below the $10,000 mark, so I've used an estimate of $8,000 for her commissions those months (based on the history when MK was still printing the amounts of the lower checks).
How funny is it that her first month as a sales director in Mary Kay – – in 1992 – – Caterina says she made $5,000. And in 2009 and 2010, she had multiple months where she made less than that. So much for promoting yourself and giving yourself a raise in Mary Kay!
What does all of this mean? 2011 was the best of recent years, and in that year, Caterina Harris only received about $110,000 in gross commissions before business expenses. She receives other prizes from Mary Kay including the use of a car and a vacation. Those are valuable, but the "free car" is wiped out by the expenses related to operating it for business purposes. And a car, a trip, and jewelry cannot feed a family. When you deduct estimated business expenses from these commission checks, you can bet Caterina has about  $80,000 (if she's lucky) cash left to pay her taxes and feed herself.   This is her wonderful career as a Mary Kay superstar.
And that "high check" of $17,200 that Caterina brags about?  It happened prior to 2009. Her income hasn't even come close to that in any month since.
What's the moral of the story? Caterina Harris is sitting at the top of the Mary Kay pyramid after spending 20 years of her life devoted to this company. She is still not making an executive income. Her income is pathetic when you think of all the work she has done, and the length of time she has been with the company. And this is a woman others want to emulate?
Caterina said it best: She is in the top 200 out of 1.8 million consultants. And she's not even making an executive income. That is the reality of multi-level marketing.