False Earnings Claims from NSD Dacia Wiegandt
One of the ways women are drawn into Mary Kay is with false earnings claims. Look at all the money that is being made! Anyone can do it! You can make a full-time living working part-time hours. Your Mary Kay recruiter and her sales director will tell you that you can make $20 or $40 per hour, or maybe even more. That sounds like a lot, especially if you can do that from home. You can do that while being home with your children. You avoid the commute. You don't have to pay for child care. The advantages are just stacking up.
But what does the big picture look like? Do women really make a living doing this? Of course they do! Look at all the women who left their jobs as nurses and teachers to do this! There are women who left sales jobs and executive jobs to do it. (Of course they're not going to tell you that there are 13,000 sales directors in the U.S. right now, most of whom are making something on the order of minimum wage and living off credit cards to support their families, but I digress.)
National sales director Dacia Wiegandt is one of the many in Mary Kay who is guilty of using false earnings claims to reel in new recruits. Check out this marketing piece she has on her website: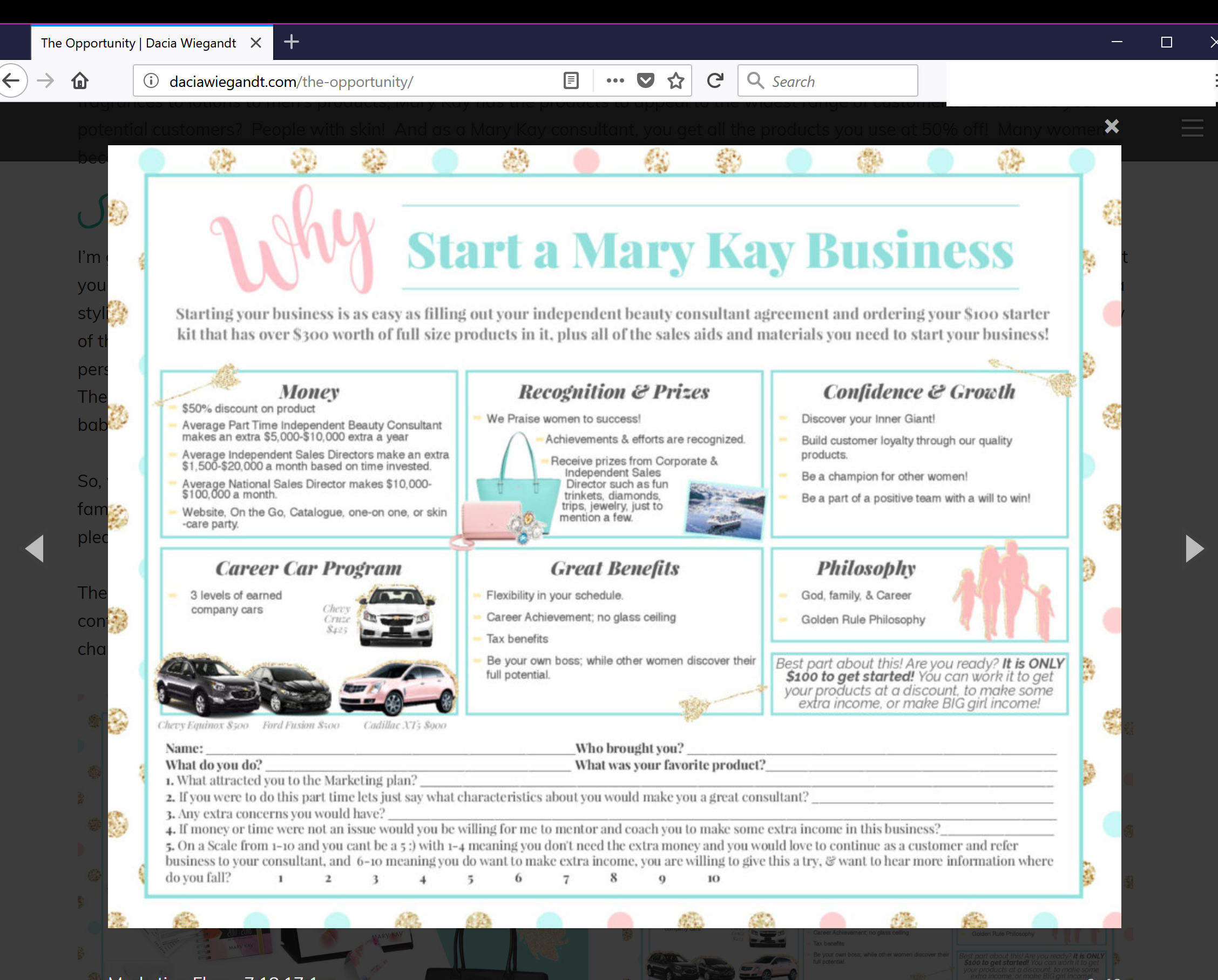 The first item that's featured is the MONEY.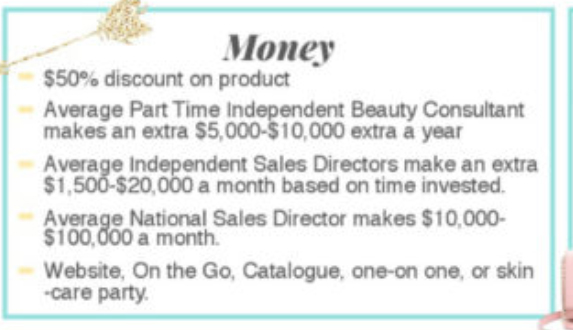 Dacia says that the average PART TIME consultant makes an extra $5,000 to $10,000 per year. Oh really? Where does she get that number from? Is that from her own unit? Is she willing to attest that in her own unit, the average net profit of her consultants is $5,000 to $10,000? Some are making more and some are making less, but the average is $5,000, to $10,000?
Dacia knows darn well that's a lie. The company doesn't keep these statistics, and neither does she. In fact, she knows full well that her consultants are making much less than that. In fact, her consultants aren't even purchasing enough products to make that much in net profit. If you want to know how I know these things, here's an old story from the days when directors and nationals used to publish numbers for the world to see. (Then they realized I'd use these numbers against them and they stopped.) This area had 27 units in it. With all those units, even the top 50 consultants didn't order enough to make $5,000 or more per year even if we assumed they sold everything they ordered and sold it all at full suggested retail.
Dacia's next lie is that the average sales director makes $1,500 to $20,000 per month. Sigh. No, Dacia, she doesn't. And you know that too. Most sales directors struggle to make the minimum monthly production of $4,500 wholesale. If you make the monthly production, and if all of the production comes from personal recruits of yours, you'd get commission of 26%, which would be a commission check of $1,170. Most sales directors don't get there. They're feeling good if they get a $1,000 commission check. Oh, that's right. They make money from their personal sales. That adds to the income too. And maybe they're a car driver? Sure, that adds to it too. But don't forget about the fact that if their unit comes up short, they take some of these earnings and sink that money back into a product purchase to make the minimums, so that reduces what they've made. Dacia made up these numbers… and therefore, they're more false earnings claims.
And then Dacia's lie about the average NSD income of $10,000 to $100,000 per month. Guess what? 39% of the NSDs make LESS than $10,000 per month. So much for Dacia's average. Oh sure, I suppose that technically if you take the average across all of the NSDs, the super high incomes at the top balance out what little those NSDs at the bottom are making. But don't tell me that those 39% at the bottom feel happy about their non-executive, less-than-$10,000 per month earnings that she's touting on her website.
Don't be fooled by these false earnings claims. Mary Kay Inc. doesn't track these numbers on purpose. They know the truth. More than 99% of people involved in MLM lose money. MK doesn't want to have the data that backs that up. They prefer to remain ignorant. Pretend they don't know the truth. Pretend that you "could" make money if you wanted to, and that women really want to have fun and maybe make a little extra money.