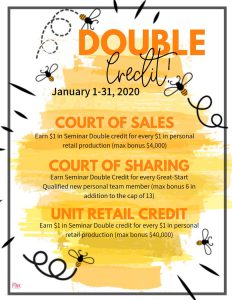 This month has been ANOTHER opportunity for sales directors to earn "double credit" on all orders placed by their units.
What is double credit, you say? It's a little trick that fraudulently inflates the amount of "retail sales" an individual or unit reports for the seminar year.
As you may know MLMs and their reps brag about how much their people "sold." But those numbers aren't retail sales, even though they lead you to believe they are.  (Look here at former MK sales director Michelle Cunningham falsely stating that her downline sold $10 million in products.) What the people and companies do is look at the wholesale orders placed by distributors and turn that number into the suggested retail value… and voila! They have "retail sales." Which isn't retail sales because it would only be retail sales if ALL of those products were sold to third party customers AND if they were sold at full retail pricing (no discounts, no products given away, no products used for demonstrations).
Mary Kay takes the fraud one step further using the double credit trick. During certain months, they will double the orders placed to calculated contest credit. Suppose you're trying to make the $500,000 unit club, which represents $500k in "retail sales" for the seminar year. Under normal circumstances, you'd need your unit to order $250,000 wholesale to get there (since suggested retail value is 2x wholesale).
In a double credit month, the wholesale value of your orders are doubled. So your unit orders $20,000 wholesale this month. That's $40,000 at suggested retail value… so Mary Kay will count that as $80,000 (double!) toward your unit club this year. Talk about phony! At the end of the year, the sales director says WE SOLD $500K OF PRODUCTS. No, they didn't. The most they could have sold was $460k, because there was a bogus $40k retail thrown in there during double credit month. (And again, we know they didn't sell it all. And we know what they did sell was not at full retail value.)
This scam happens in Mary Kay once or twice a year. It's done during months when orders are lower than usual in an attempt to get consultants to order more. So when your director is dialing for dollars this month, please know that there is an ulterior motive. She's going to tell you how you will get so much closer to the court of sales this month. She doesn't REALLY care about that. She cares about her commission check and the double credit she gets toward unit retail for the year.