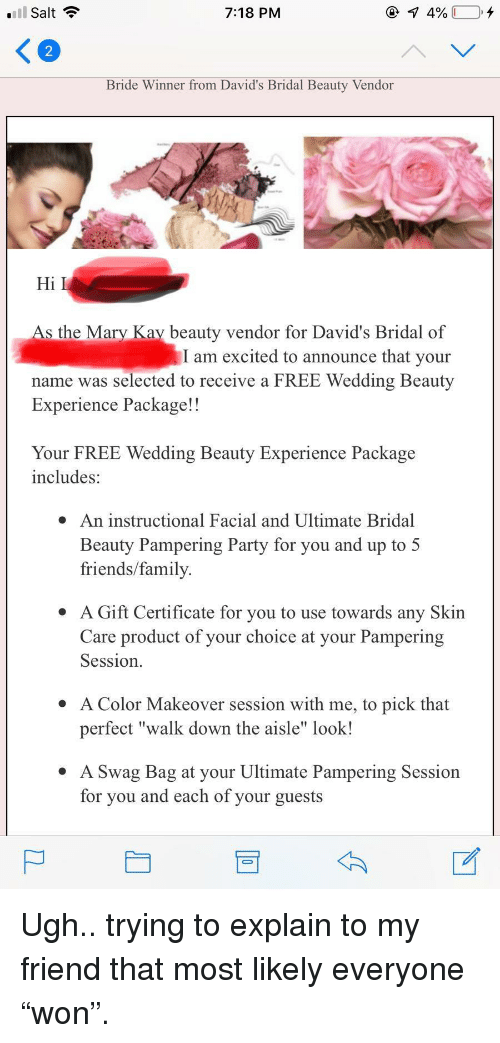 A Mary Kay lady was aghast. Someone on Facebook said a store sold her information to a Mary Kay consultant, and the woman received an email she thought was a "scam for a facial."
Guess what? The woman was right. It WAS a scam for a fake facial. David's Bridal did give her information to a Mary Kay consultant.
David's Bridal is a popular place to collect names. The consultant can pay David's a monthly fee to get the list of women who tried on bridal gowns. You can't try on a gown without giving your contact information, and no one will tell you that your information will be sold to a Mary Kay consultant. You may also see a consultant who has set up a table at a Davids, but that surely will cost the consultant money too.
Mary Kay consultants contact the brides  to offer them a "free facial" or "free wedding makeover." It's the same old scam that has been used for decades by MK ladies.
There is very little that is "free" about this. You're going to clean your own face with Mary Kay products. (Not a facial.) You're going to apply MK makeup to your own face. (Yep, this they call a "makeover.") Then they're going to try to sell you products. Then they're going to try to recruit you, because who couldn't use some extra money when you're planning a wedding? Except you're not going to make money. They're going to twist your arm to buy thousands of dollars of inventory, because that's how the money is made by the upline.