Former Cadillac sales director (more recently a Premier Club director) Kimberly Perkins has quit Mary Kay. And she's done it with a flourish!
Let's back it up. Kimberly started MK in 2008.  In 2012, she got her first pink Cadillac. She requalified several times, but failed to qualify the last go 'round, and in January picked up her Premier Club car.
As recently as February of 2020, Kimberly was talking about how she was going to be a national sales director (see hashtag #nsd2be).
And as recently as February, Kimberly was all Mary Kay, all the time, doing YouTube lives with other directors.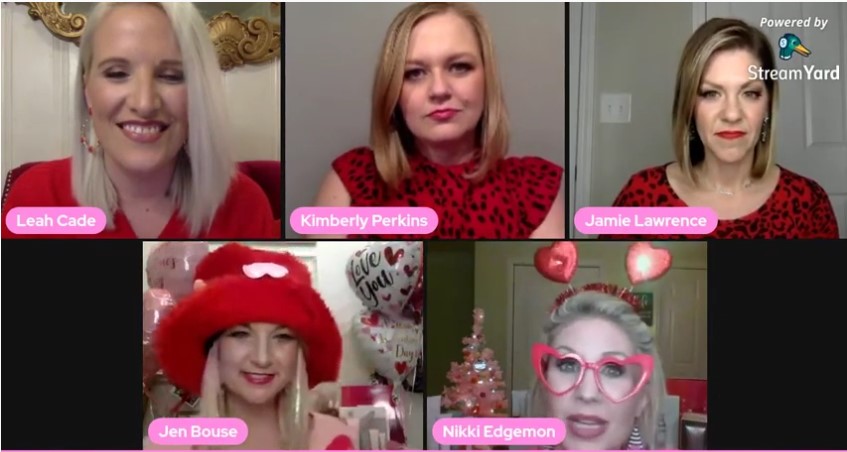 Except suddenly she's decided she can't be in Mary Kay. Well… not suddenly. She claims she has been thinking about this for four years. See this Instagram post where she spills the tea. She drops things like:
Someone who I valued and trusted asked me in June of 2012 to do something I never imaged doing. Cheating the system so that she could gain a title.
My work ethic and desire to win was taken advantage of from someone I deeply trusted. As a competitive individual who loves the race, my performance was constantly interrupted ,threatened and de-valued. The people I loved the most were taken from me because of lies that they choose to believe. I was isolated, lied about and the very core of who I am was called in to question.
She also posted on Facebook about "stepping down." (Rumor is that Kimberly might actually have lost her unit for failing to make production, but I haven't been able to confirm that.)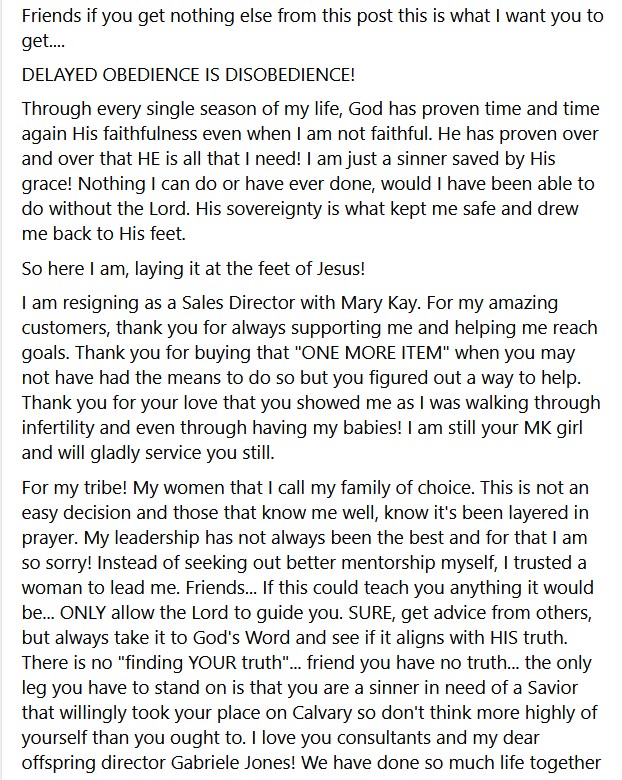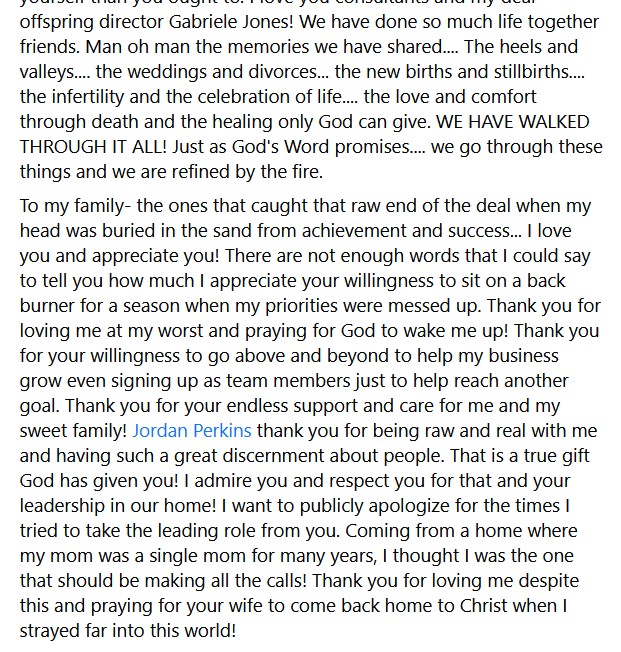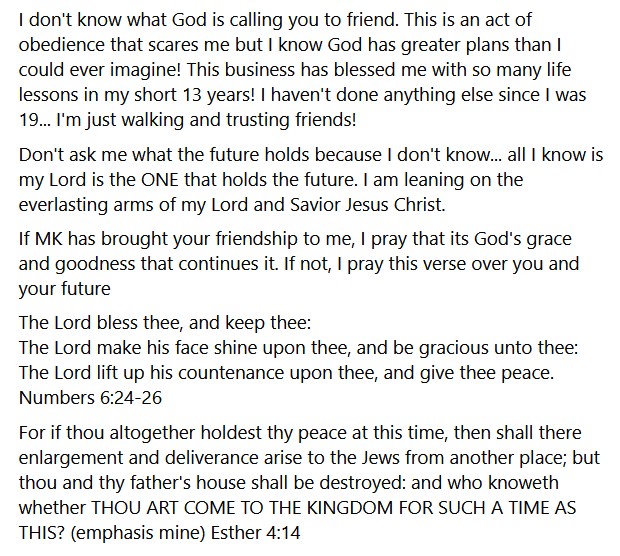 Who is this upline accused of getting her to cheat in June 2012? It's her NSD, Somer Fortenberry, who qualified to become an NSD in 2012.

It had something to do with "earning" the Cadillac in 2012. Which more probably included paying for people's orders, recruiting people who didn't exist, putting recruits in units below Kimberly so she could become a senior sales director, or something of the sort.
And then there's the 2017 cheating allegation. That's the year Kimberly finished the top director trip to Alaska. And that was also the year that the Fortenberry Faith area had something they called their $200,000 day: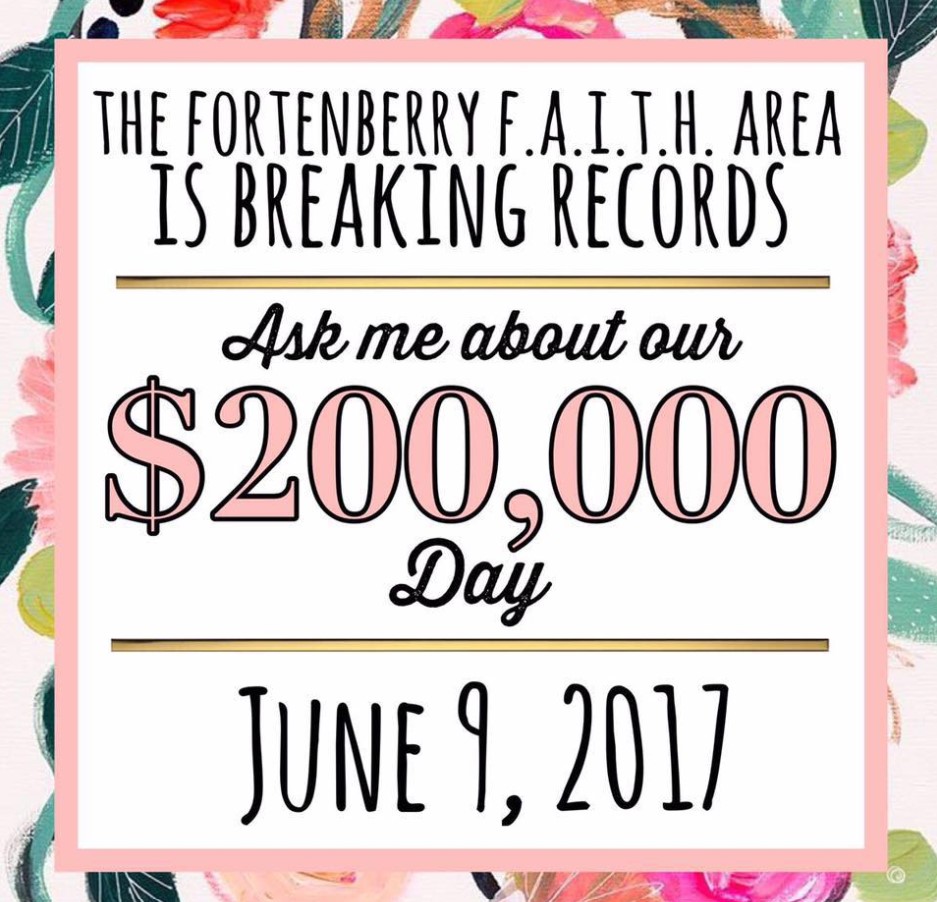 As usual, I'm sure tons of products were ordered in others' names, paid for with Kimberly's credit card. But she was told that long term she'd benefit from that because when women see someone moving up fast, they're more likely to sign up and start recruiting rapidly too. That's how the scam continues: women in the downline see the (fake) success and want it, and are convinced to buy their way up the ladder too.
What's with the sudden development of a conscience? It's been nearly 9 years since Kimberly's 2012 cheating happened. It's been nearly 4 years since the 2017 cheating happened. And NOW she has a problem with Mary Kay?
No. Kimberly doesn't suddenly have a problem with Mary Kay. She just doesn't want to be in Somer's area anymore. Kimberly Perkins and Somer Fortenberry have had a falling out, so Kimberly is quitting MK (for now). She's becoming a "virtual assistant" who will do social media stuff for Mary Kay directors.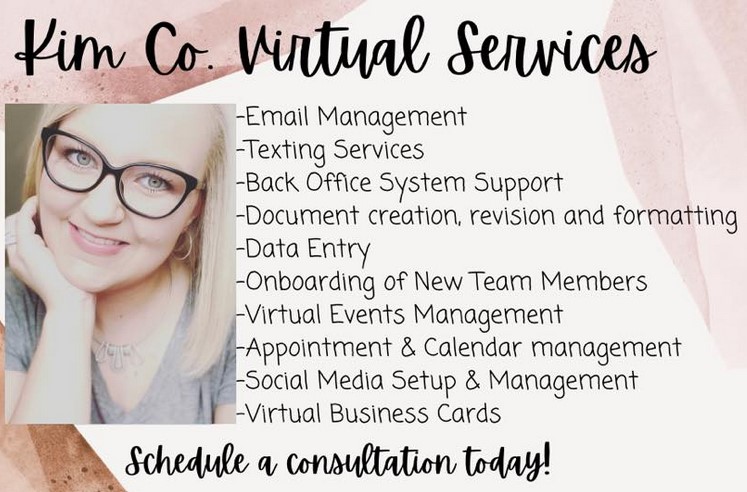 She's also calling herself a business coach. How unique.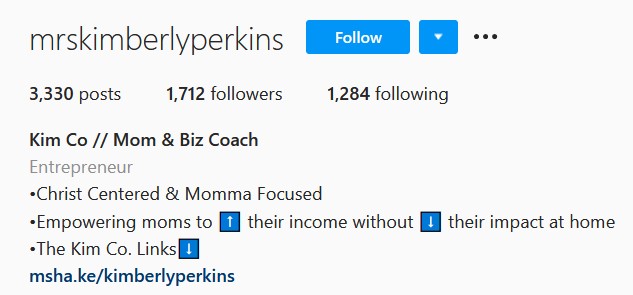 And after she sits out a year, Kimberly will sign up for MK again under someone else so she can be in a different national area.
Mary Kay ladies are nothing if not petty.
Let's take a little trip down memory lane and see how Kimberly gushed about her "mentor" Somer: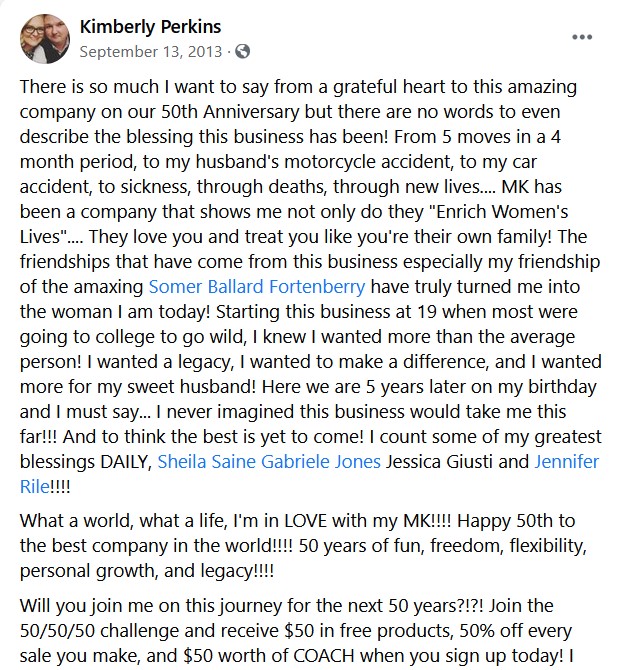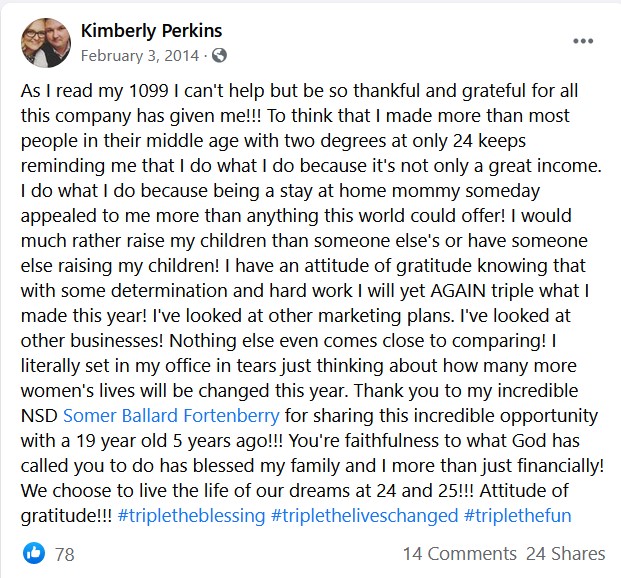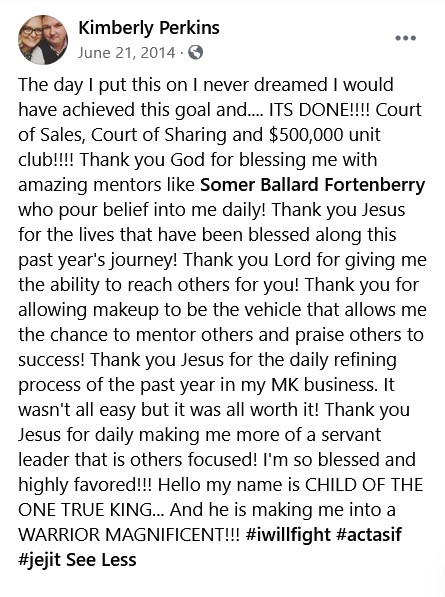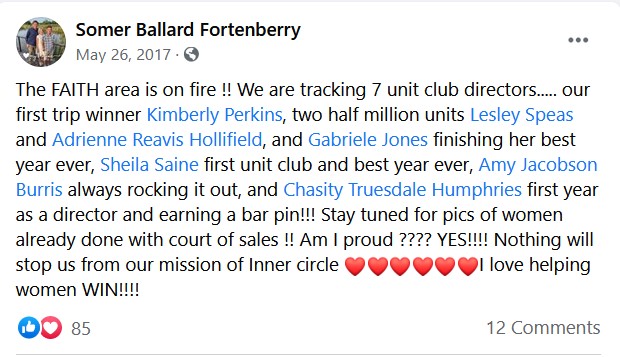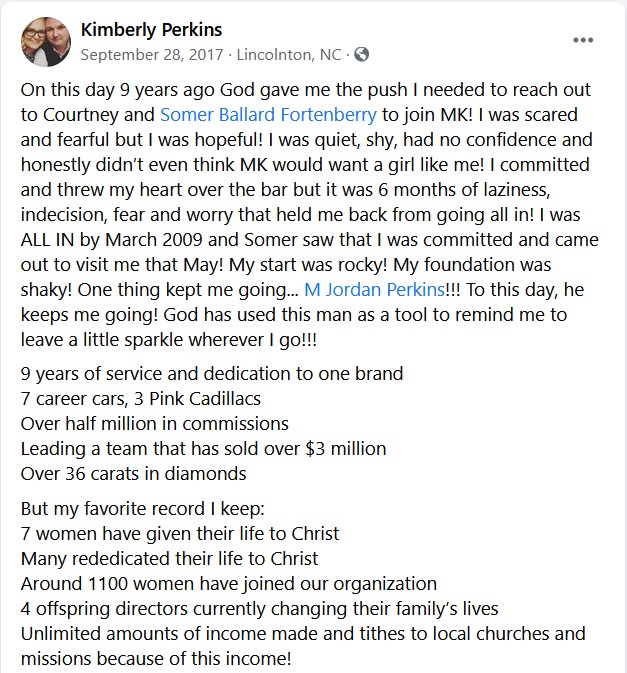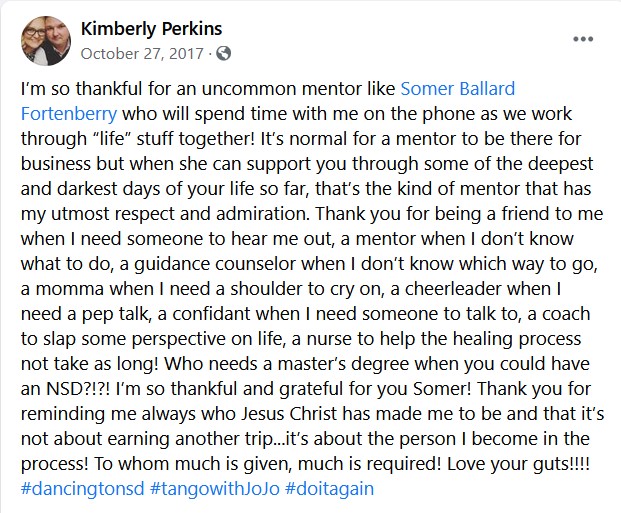 So Kimberly went from being an "executive senior sales director" a few years ago, to losing the Cadillac, to maybe/probably losing her unit and blaming her former friend NSD Somer Fortenberry for getting her to cheat in 2012 and 2017 to finish goals.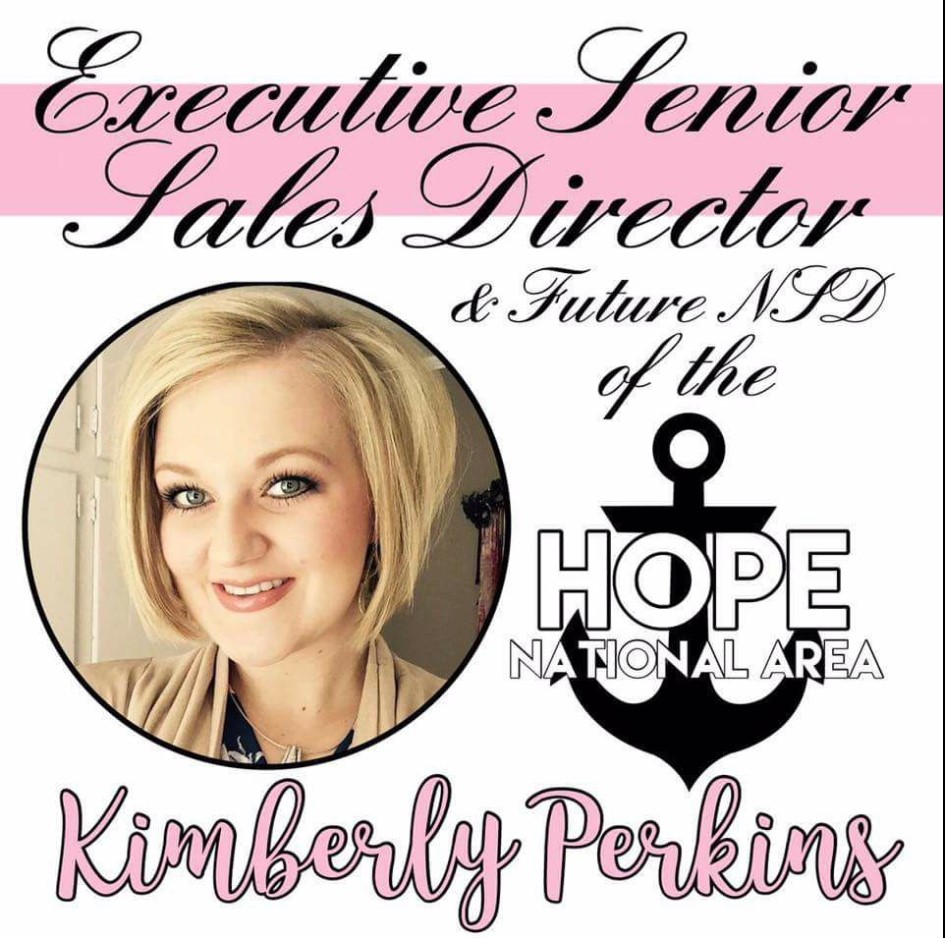 And yet, Kimberly's plan is to stay involved with the MK ladies through her little coaching and virtual assisting. Then she will sign up for MK again, start at the bottom of the pyramid, and recruit all over again to try to become a sales director, pink Cadillac driver, and so on.
Even after saying this, she still wants to join MK again next year:
To my family- the ones that caught that raw end of the deal when my head was buried in the sand from achievement and success… I love you and appreciate you! There are not enough words that I could say to tell you how much I appreciate your willingness to sit on a back burner for a season when my priorities were messed up. Thank you for loving me at my worst and praying for God to wake me up! Thank you for your willingness to go above and beyond to help my business grow even signing up as team members just to help reach another goal.
She doesn't really even grasp that she just wasted 13 years of her life on a scam. A scam in which she did massive cheating in 2012 and 2017. And she has to walk away with nothing. Nothing. And start all over again a year ago. And Kimberly will do this willingly. This, my friends, is true cult behavior.
UPDATE: Did someone say petty? Here was Somer Fortenberry's response last evening.