They tell you that Mary Kay is all about selling cosmetics. You can make so much money, just for sharing these products with women who already use cosmetics and skin care. Yet women are not profiting from product sales. First, because they sell so few products and spend so much time trying. Second, because the products can't be sold in a profitable way. They tell you that you buy Mary Kay products for $1, and sell them for $2. You've just doubled your money!
Except almost no one sells products for full price. Chelsea Adkins is the perfect example of this. She is always bragging about selling a ton of products and being one of the top women on the Queen's Court of Sales. Here Jamie Taylor is bragging in April about Chelsea "selling $80,000." No, she did not. She ordered $40,000. She sold it for $40,000. She had no profit. This is nothing to be proud of.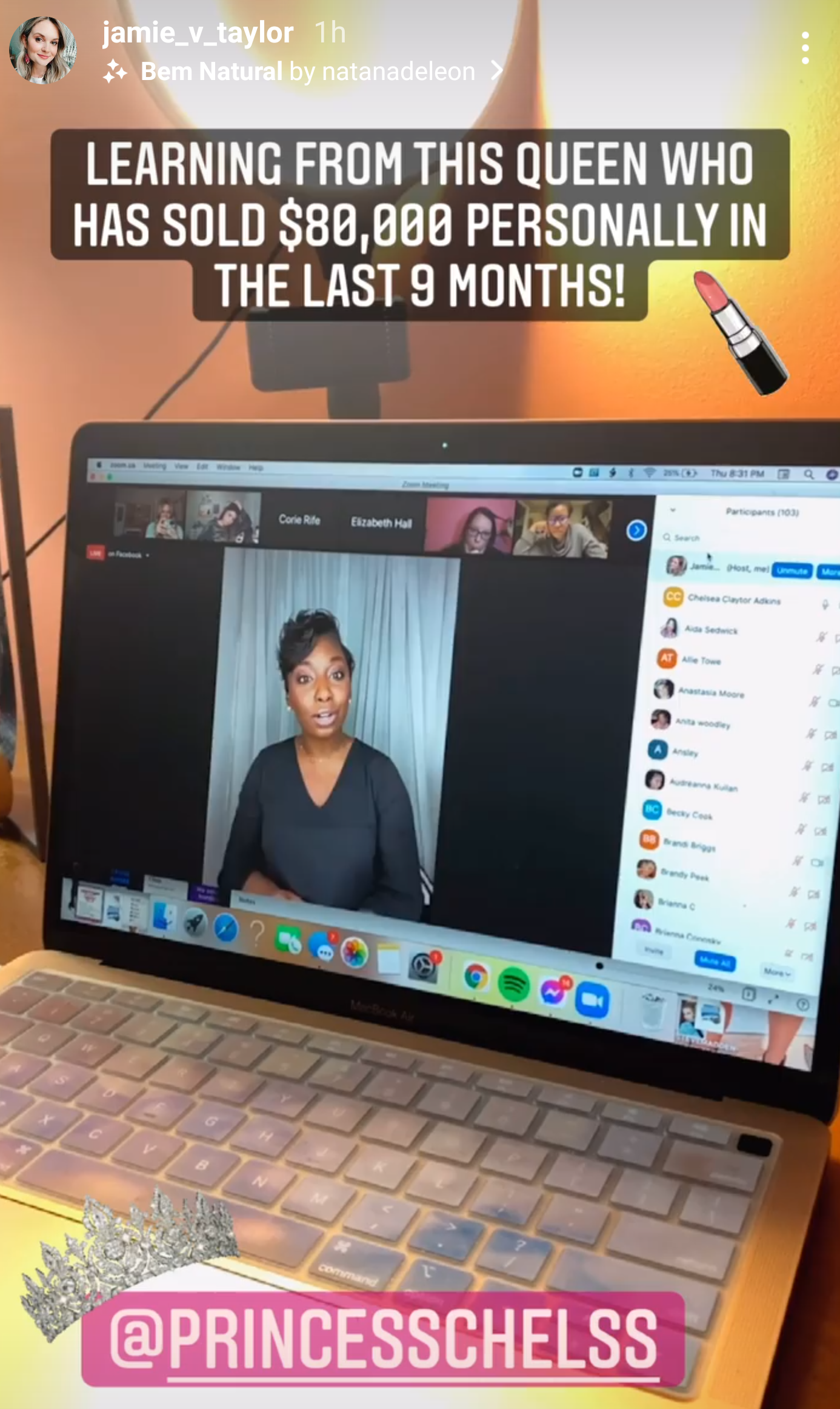 In April she ran this sale: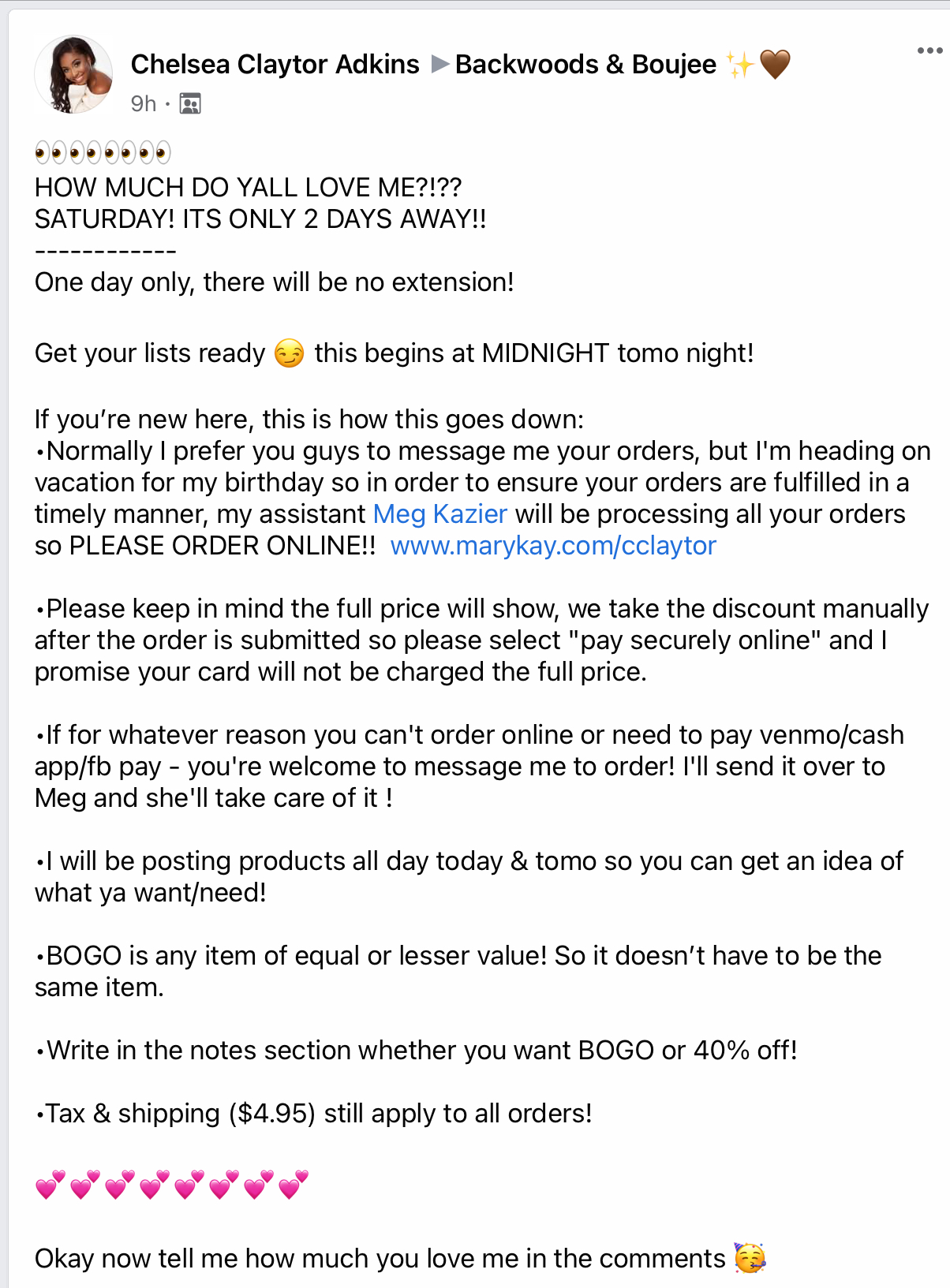 Two weeks ago she did the same thing, selling everything at BOGO (buy one, get one free…. in other words 50% off) or 40% off. She sold 633 products essentially for what it cost her to buy them.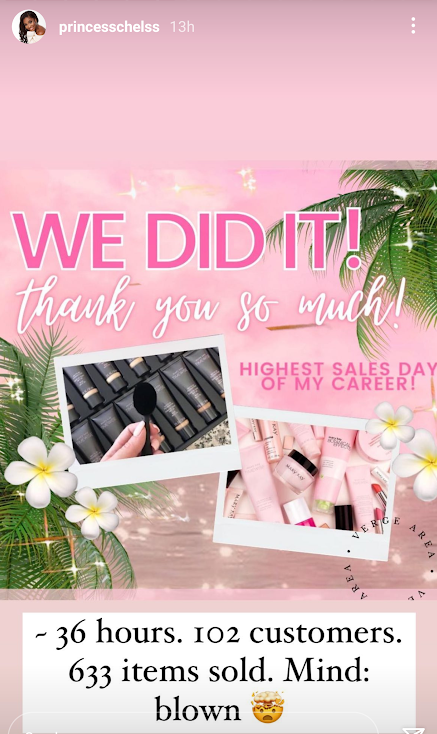 Now Chelsea is running the same sale for the THIRD time this year. That's right. Three big sales, zero profits for Chelsea Claytor Adkins.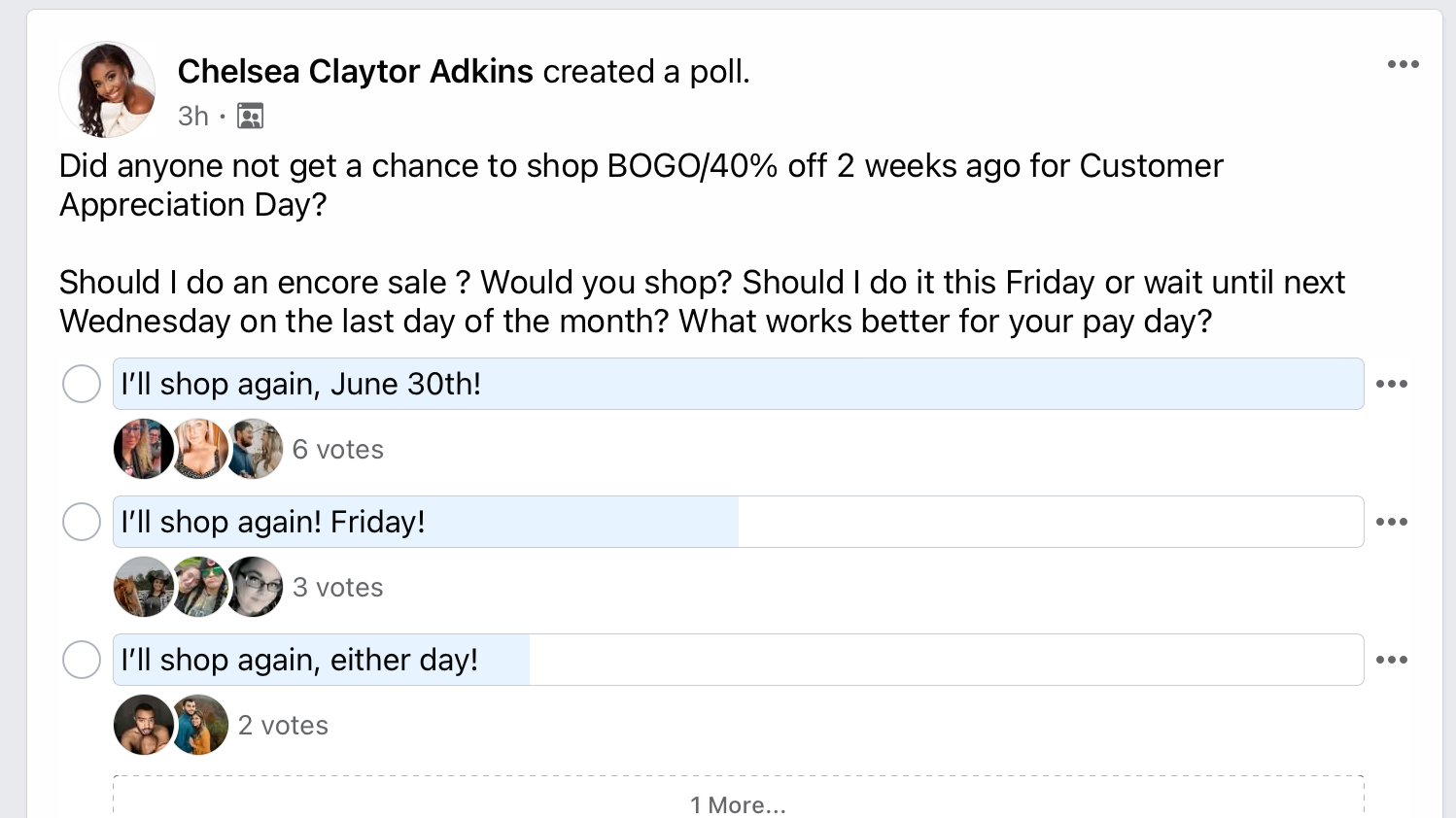 Why is she doing this? Because she's got to order a bunch more products in order to get Circle of Excellence finished. She doesn't care if she profits one cent on product sales, as long as she keeps the illusion going.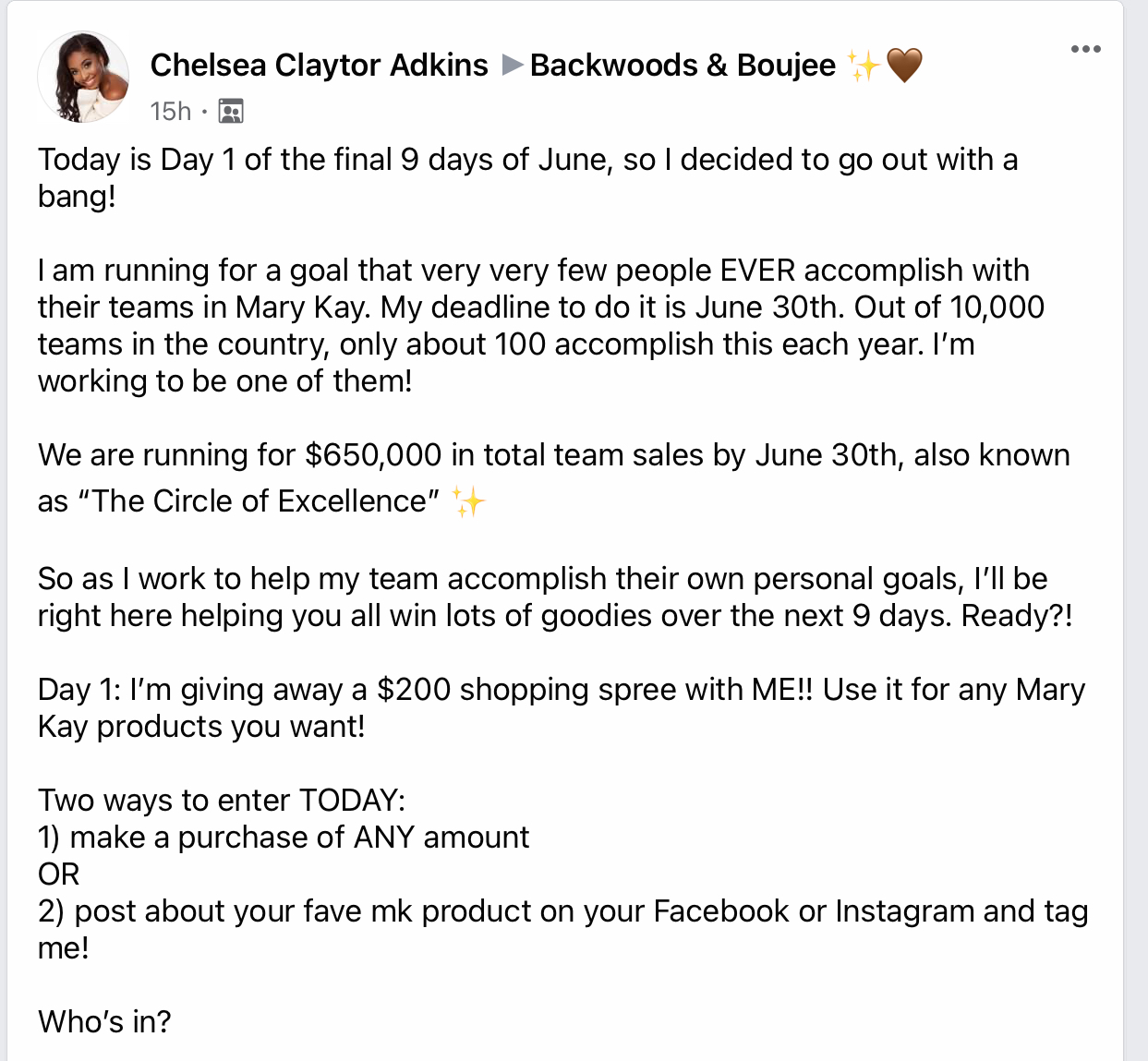 Mind you, earlier this year Chelsea was "crowning million."  Everything was about being a "million dollar director" this year. Also she's going to be an NSD next year LOL: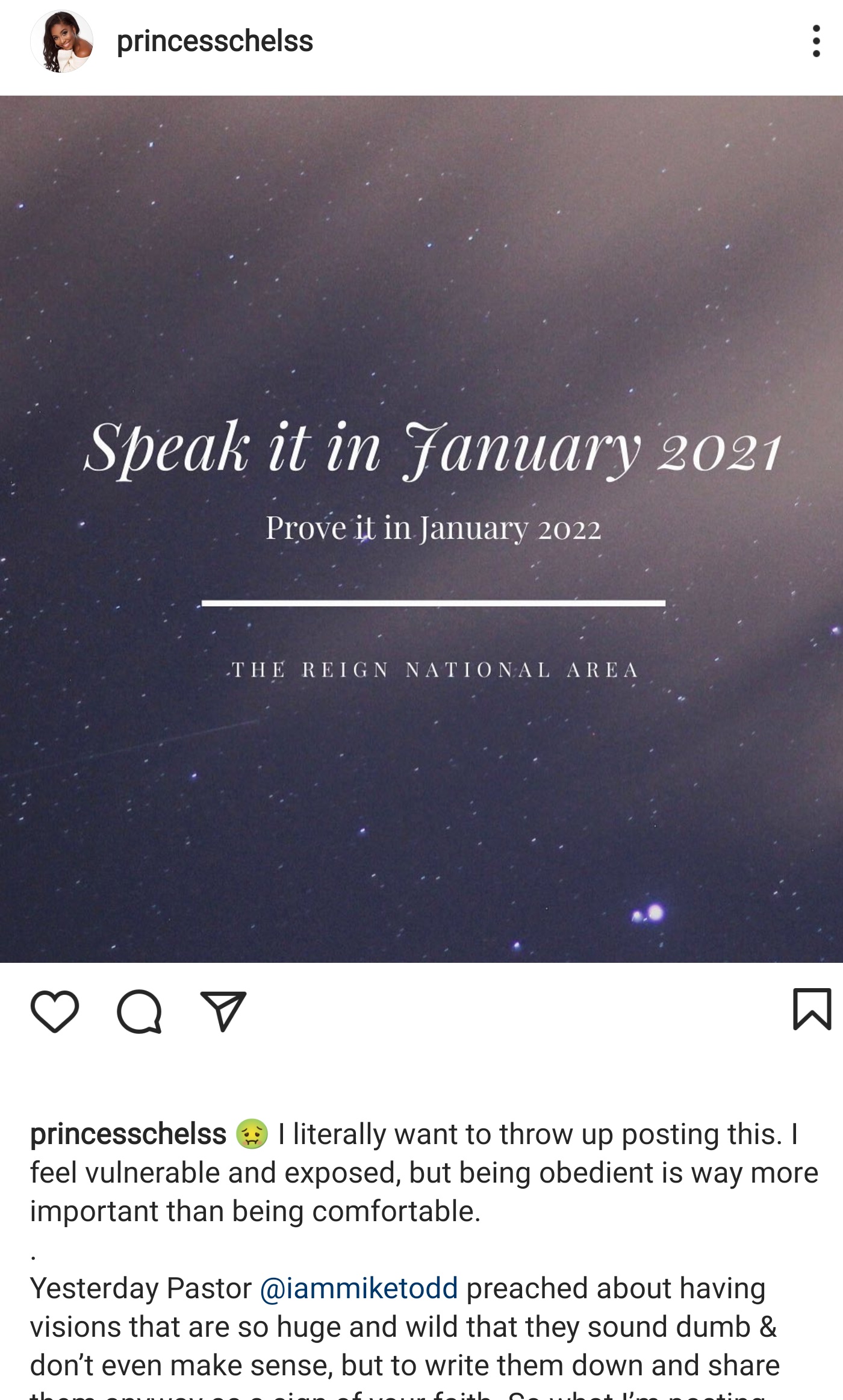 This all started when Chelsea was trying to finish the Cadillac a couple of years ago. She put massive amounts of products on her credit cards. (This is only a small part of her stash.)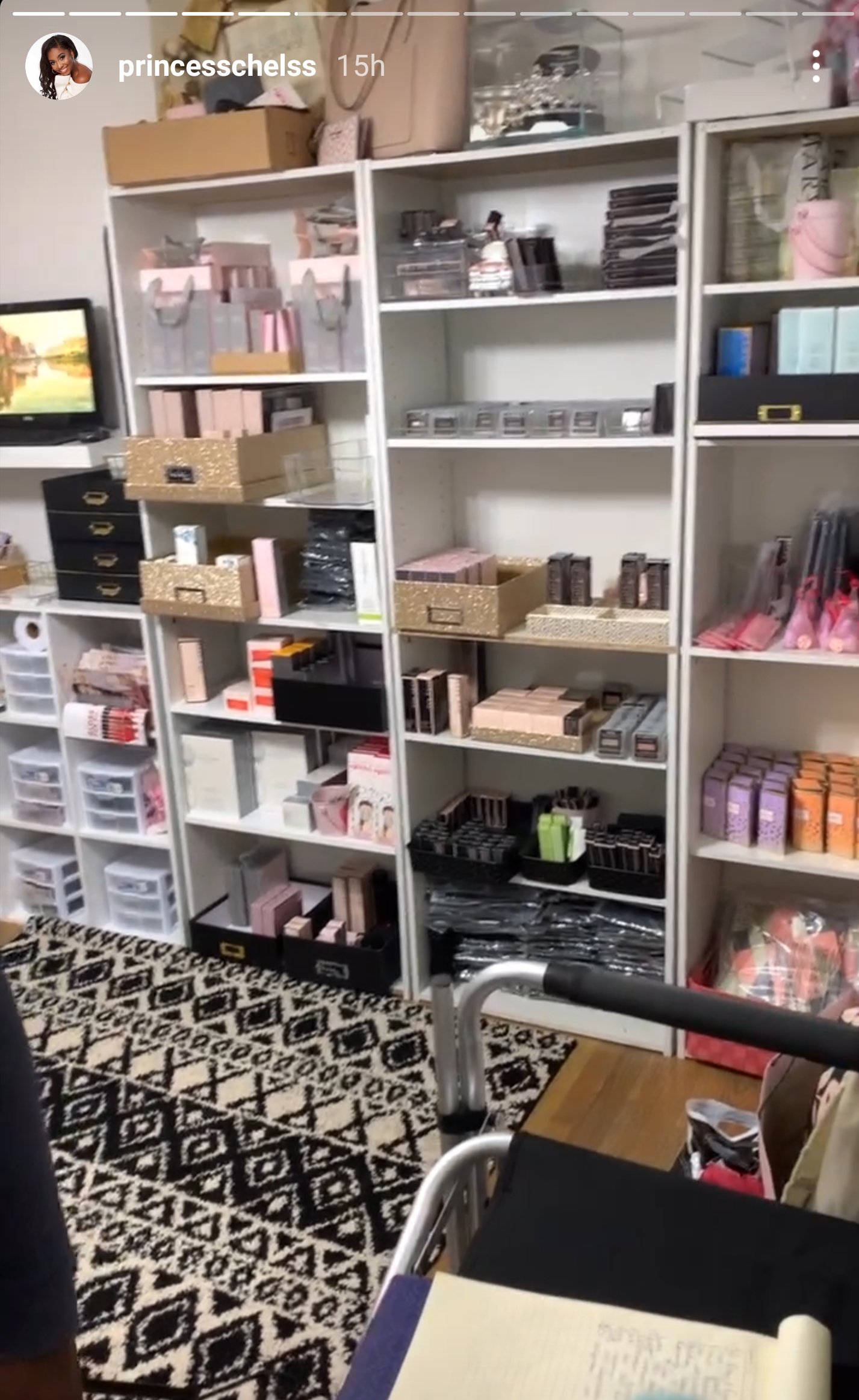 Appearances are so important in Mary Kay, and to some extent it works. Chelsea buying her way into a Cadillac made her look successful. That image helped her recruit more. But it didn't really make her a success. Last year she was complaining on Instagram that her credit cards were all maxed out. She blamed it on choices when she was younger. But let's be real. If she was really successful in MK, she wouldn't still have maxed out credit cards. (Nor would she have been evicted a few months ago from the house she rented but pretended she owned, and now living in her mom's house.)
But she's good at keeping the illusion alive for social media. For Chelsea, this includes a birthday (she calls it C-Day) weekend at an expensive hotel, eating expensive meals, and drinking expensive alcohol. Like a $263 shot of tequila.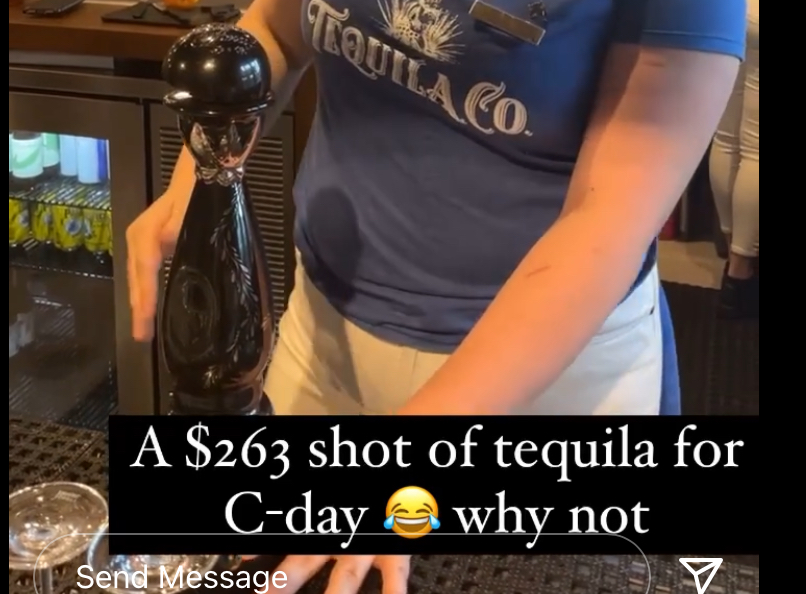 Girl, pay off your credit cards and stop living at your mom's house before you pretend to be wealthy. And most of all, stop lying about your sales. Just tell everyone that you're selling these products for no profit.
Keep watching the movers and shakers in Mary Kay. They keep bragging about their product sales, because that's how they make the "opportunity" look legitimate. But they're not profiting on these sales, so there is no purpose. If you can't sell products profitably, then MK is a pyramid scheme with the REAL business being recruiting warm bodies.