Fun National Area with Heather Daniel Kent
Heather Daniel Kent has been "almost an NSD" for years now. Every single year brings the mantra: "THIS is our year to become a national area!"
But poor HDK never gets any closer. Here's where she stands currently: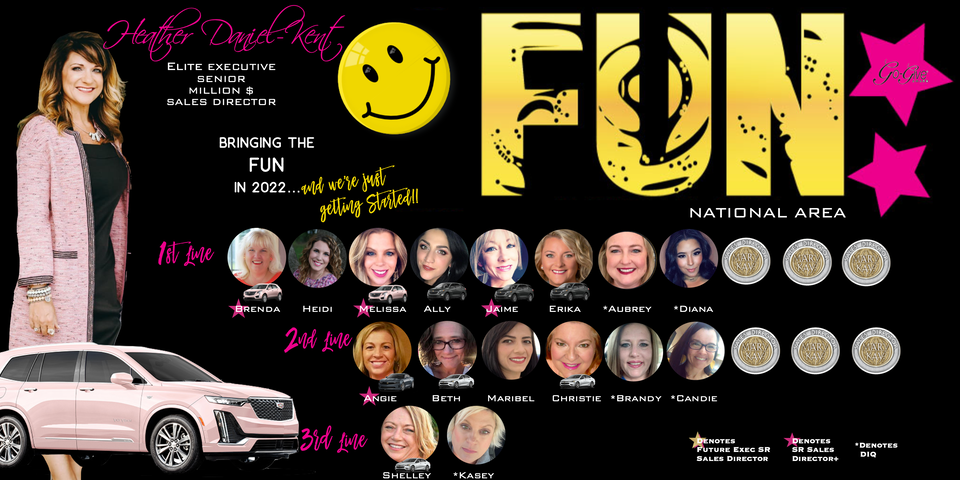 Looks great, doesn't it? Not if you know the details, it doesn't.
I've been tracking Heather's people over the last couple of years, and she's just not making progress. Right now she has 14 people showing in the first and second lines above (which are the only ones that count toward becoming an NSD). 10 are directors and 4 are DIQs. Even if all the DIQs finish successfully (they won't), she still needs 6 more. And while she's getting those 6, some in the current 14 are sure to drop off.
How do I know some will drop off? All you have to do is look at what has happened over the last year.
Heather has had 4 women finish DIQ and remain as a director for a year or less: Alexis, Michelle, Morgan, and Anna.
Current DIQ Aubrey was a director in 2019-2020, then fell out and early 2021. She went through DIQ in early 2021, late 2021, and is now doing DIQ again.  That's 3 tries at DIQ (that I know of ) in one year. When will Aubrey learn?
In the last year alone, there were 8 women who went through DIQ and never made it to director: Tammy, Amy Marie, Adri, Kendra, Amy, Leah, Nikki, and Jess.
Current DIQ Diana has been in and out of DIQ for a year now, and this is at least her 3rd try at it in the last year. When will Diana learn?
The most directors Heather has ever had at one time is 14, and that was last year in October.  Since then she's lost 4 of those directors and has had her DIQs on repeat. She had 6 DIQs in October. 3 of them never made it and 3 of them are on the plan to repeat DIQ over and over, and they're currently doing it again.
Heather says she's bringing the fun in 2022. She's been saying that since 2018. It doesn't seem so fun to me.