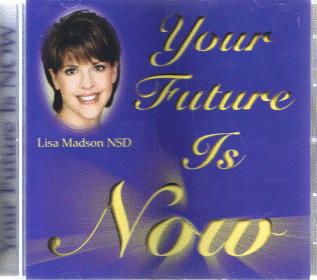 Written by Verity Rose
It's no wonder that Mary Kay recruiters in search of a downline will encourage potential recruits to watch Your Future is Now, in which NSD Lisa Madson tells her I-story to a room full of MK faithful and the guests they hope to bring into the fold.  TopDirectorTapes.com, whose stock in trade is flogging Mary Kay motivational materials, notes that "[t]he Field Force says, 'when this DVD is shown with guests present, an average of one-half of the guests who are present make a decision, on the spot, to become Mary Kay Beauty Consultants.'"  This is no accident. If Madson is not quite Kryptonite for holdouts and skeptics, she's pretty close.
If you have spent any time as a Mary Kay consultant from 1992 to now, someone has undoubtedly shared Lisa Madson's statistics with you.  She became a Sales Director in 1988, two years after signing her IBC agreement, and a National Sales Director in July of 2000.  Her publicity material notes that she built the largest sales unit in the history of MK; her unit was ranked #1 across all five divisions from 1994 to 2000, and reached the $2,000,000 Circle of Excellence three times; her National Area ranked fourth at Seminar 2011; and in 2011, Lisa's personal sales unit completed over $1,000,000 in unit production for the 20th consecutive year. In YfiN – which was produced in 2000 — she notes that her annual income is over $450,000.
Who wouldn't be impressed by this? Well, for starters, those of us who know that MK considers the consultant, not her customers, to be the end-user. Those 20 years of million-dollar unit production represent $20 million in sales to women who then must convince reluctant friends, family, neighbors and strangers to buy it. If they can't sell it, and if they've missed the window of opportunity to return it for the company buyback, that's their loss, not the Madson Unit's loss.  Of course, we are not the target market for YfiN.  It's the would-be consultant, the fence-sitter, particularly the fence-sitter surrounded by skeptics, for whom YfiN is tailor-made, and for them, Lisa Madson pulls out all stops.
YfiN's success lies in Madson's charm – and at this event, she is very, very charming. (A former consultant in an East Coast unit within Madson's area told me she had met Madson at an event in 2010 and was "dazzled" by her.) Her delivery is polished (but not rarefied or "speechy"), and her comic timing is snappy.  She evokes the general sunny vibe of the funny soccer mom or member of your book group – who just happened to make half a million dollars last year.  She admits that prior to joining MK, she was "more sarcastic than I am now," and even made fun of MK. (This revelation made me a little sad; something tells me I would have liked the old, smartalecky Lisa Madson.)  By admitting this, Madson attempts to cut skeptics off at the knees:  see, I was one of you, too! But then I learned about how the company works, and now I believe! To a fence-sitter, such an admission is powerfully persuasive.
If money, specifically not having enough money,  is your "hot button" issue, Madson has a few things to tell you.  Specifically, she got into this business because all she wanted was to make an extra $70/week, to replace her retail job.  She tells of being a young mother, married to a lowly-paid Christian day school teacher, working part-time secretarial and retail work. Her aims were modest. It was only upon signing up as a Mary Kay consultant, and learning about how "great" the company was, that she started to sell. And sell. And sell. Eventually, she was able to quit her secretarial job as well as her retail job. She decided to "work hard," and her hard work paid off handsomely.
What she doesn't tell you, at least in YfiN, is what exactly constitutes "hard work." She notes that during her first week, she held four skin care classes (which ran for three hours each!) and one facial, and "sold $682," an amount so stunning that her husband, who had warned her "don't expect any help from me," started loading her car with product.  She does not clarify, however, whether that $682 is wholesale or retail. If it was retail, her take, assuming she didn't take the 60/40 split, was $341. She does not mention how much time she actually spent on traveling to and from classes, setting them up, breaking them down, and performing follow-up; nor does she mention how much she had to spend for promotional materials.  That "$682," like most of the information Madson offers in YfiN, is information in a vacuum.
She also addresses the four "avenues of income" in Mary Kay, the ones that, when combined, bring her those big monthly checks:  classes and facials, sales of a consumable product (she is positively gleeful at the thought of women putting on MK makeup in the morning, only to "wash all that MK product down the drain" at night), recruiting, and directorship.  Of course, she says later, it's fine if you don't want to work as hard as she does. If you only want to work a little, you'll still succeed in Mary Kay…somehow.  Of course, we don't learn how.  Lisa Madson is not here to sell you on "small" success stories.
No recruiting effort would be complete without objection-overcomers and tales of triumph over skeptics and nonbelievers, and Madson has plenty of both.  Her husband said "Don't expect any help from me" – and then changed his tune after her first week of sales.  Her parents were horrified: her father asked her "why don't you do something reputable?" Madson attributes their skepticism to being "uneducated about what the company had to offer," and notes that when she debuted as NSD, her parents joined her on stage.
A childhood friend who was a "former" consultant – Madson makes air quotes around the "former" — "…gave me a lecture. It was a 20-min lecture…what would make me think I could do this?  I couldn't even sell band candy in high school…" Six months later, her friend rejoined MK as her first recruit in MK, and eventually earned a highest-month check for $14,000. Not surprisingly, Madson doesn't say when she earned this highest-month check, or what her other checks looked like.  Instead, she quotes her skeptical friend:  "Had I listened to you, we'd both be broke."  That'll show those negative buzzkills!
Her objection overcomers are standard stuff.  You're shy? We will help you. You can't sell? We will teach you. You can't book? We'll teach you that, too. (What happens if you find what you're learning to be deeply unpalatable, if not unethical? Madson doesn't elaborate, short of a discussion of "positive attitude" and reaching goals, no matter what the obstacles.) You have no money? Not even for a starter kit?  Hello, have you been listening? That's why Lisa Madson became a consultant – she didn't have any money! Surely someone loves you enough to loan you $100.  Or two someones love you enough to each lend you $50. As for inventory, well, you don't have to have it, but she was "all-in," so she wanted it. And she put it on credit. And Dan was nervous about all the product in the house, and about their new debt, until the stuff started selling like hotcakes. So who was buying it? We don't know. We never learn.
Likewise, we never learn how long it took her to pay off that credit card, or what she would have done if she didn't have available credit. We don't know what "we will teach you" entails.  We don't know what to do if we work our hearts out and just can't sell anything, or if we worked the business so hard that we don't have any friends left.  We have no practical business advice, other than to hire a tax professional to help you figure out your taxes. (I do give Madson credit for advising the crowd to let the professional tell them what they can and can't deduct, rather than making pie-in-the-sky, "everything's deductible!" assertions.)
Instead, we have directions to imagine ourselves being our own bosses, setting our own schedules, writing out the checks for our own bills.  Unfortunately, imagining that you're paying the bills does not actually get the bills paid.  Not even when Lisa Madson tells you to imagine it.